Dagorhir Chapters span much of the United States and the continent itself, from Puerto Rico to Hawaii, from Mexico to Canada. Dagorhir Chapters vary in organization and how they are compiled, ranging from kingdoms to loose confederations of tribes depending on the local chapter, its history and its membership.[1] That being said a Chapter is a stationary area of land that grows and changes with it's player base, wherein they host events and practice the game.
Chapters can be formally registered in order to be allowed the use of the Dagorhir name, or related designs and documents.[2] Under the contract, Chapters are to maintain a chapter administration and hold a set number of public events. In return not only do these contracted Chapters get to legally use the Dagorhir name but also hold seats on the Raganrok War Council, an annual set of meetings that occurs during Ragnarok. At this meeting representatives from each contracted Chapter vote on amendments, additions, and changes to the overall Dagorhir Manual of Arms. In addition to this the Ragnarok War Council is also responsible for the election of Ragnarok staff and the administration of the event.
Chapters vary widely in size, age, interests, membership, and geography. Most Chapters will keep an armory of weapons for loaning to new members or guests to their realm. This is most common of larger groups, but often smaller groups will do it as well. As such a Chapter, wether contracted or not will use it's resources to hold public events, practices, meet-ups and organize other Dagorhir related activities.
How a Dagorhir Chapter is Ran
A Chapter is defined as any group that holds Dagorhir events for its membership and is recognized by Dagorhir Battle Games Association.[3]
A Chapter's membership is defined as those people who regularly attend that Chapter's events. As such, a Chapter has a geographical basis defined by membership participation. However, no Chapter may claim an exclusive geographic location or boundaries as their membership. (e.g., No Chapter can "claim" the state of Colorado as as their Chapter territory.
Chapters must abide by all applicable federal, state, and local laws while maintaining a positive relationship with government organizations, the public, and with other Dagorhir groups. Being a non-profit entity, a Chapter must use all proceeds from Dagorhir events and related sources for the furtherance of the Chapter or for Dagorhir as a whole. For example, to pay costs of advertising, insurance, materials for loaner equipment, or site-use fees. Furthermore any Chapter position is purely voluntary and proceeds from events and related sources may not be used for personal profit.
While all Chapters, contract or not, are more than encouraged to use and adhere to the Dagorhir Manual of Arms (the Dagorhir Rule System) Chapters may add rules in addition to those in the Dagorhir Gaming Rules System. This is as long as they do not decrease the safety of the fighting or over-rule the basic tenets of the Dagorhir Gaming Rules System. For example, but not limited to all weapons must be safely padded and checked for safety at every event, hits to the head or neck from hand-held weapons are illegal, etc.)
Most importantly a Chapter is responible for holding Dagorhir events. These events may be, but are not limited to, battles, tournaments, feasts, seminars, classes, meetings, practices in garb, etc. and are completely open for participation of the entire membership of the Chapter and of Dagorhir and to new members interested in joining.
Administration
Chapters are ran through an administration of elected officers from the members of the Chapter. Each officer is elected through fair and equitable means. While some Chapters have different names for their ofices and may vary in the size of their chairs each Chapter has, at a minimum, an Administrator, Administrative Assistant, and Book Keeper. More positions may be created and staffed as the needs of the Chapter dictate and care to do so.
While they come to you with many different names and variations of the title the Administratior, or Admin, is the head of the Chapter's administration. It is the responsibility of the Administrator to notify Dagorhir Battle Games Association of the election of, or changes to, the Chapter's officers.
While it is still encouraged regardless of the fact, while holding an official Chapter contract with the Dagorhir Battle Games Association the Admin of the Chapter is responsible for holding at least one Dagorhir event per month. Now while this doesn't need to be combative in nature this must be at least somewhat related to the Dagorhir game. These events may be, but are not limited to, battles, tournaments, feasts, seminars, classes, meetings, practices in garb, etc.
Chapter Heraldry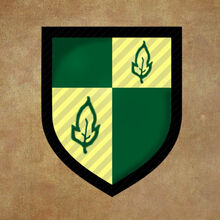 As with units, all Chapters must have a standard; a flag, totem, or banner that tells something about them.
It's important that the heraldry (symbols and colors) a Chapter uses is unique and important to the members of the Chapter as it is the visual representation of the Chapter as a whole. Standards should be brought to every battle and you'll find them beautifully displayed around campsites and tournaments.
A heraldry is not solely left to the banner and flag but can also be found of a Chapter's dress and favors. Many Chapters don their shared heraldry on their shields on the field to help identify each other amidst the chaos and roar of battle. Other Chapters present their members with shared tokens and belt favor to identify each other in a feast or party. These favors and symbols promote unity and help establish a shared sense of fellowship.
Many Chapters wear matching costumes or uniforms. Others often wear similar clothing (such as Celtic War-Bands, who dress mostly in plaid wool) that shows them to be a united people. This clothing can match the Chapter's heraldry or standard in color as to make it easier to spot in a crowd or field of battle. Some Chapters have no standard garb, encouraging each member to show their individuality or the colors of their unit and character instead.
Check the map here to find a Dagorhir Chapter, or look on the Chapter List . Can't find what you're looking for? Contack Jake Bova, the Land of Dagorhir map cartographer for assistance.[4] (jakebova@live.com)